Your travel guide to the sunniest mountain resort
Chic, elegant and exclusive with a cosmopolitan ambiance, St. Moritz is one of the most famous resorts in the world.
For more than a century, St. Moritz, with its spectacular scenery and fine weather, has been the playground of the rich and famous. St. Moritz has continued to stay a world class resort that attracts winter sport fans from all around the world.
Surrounded by Alps peaks towering 3,000 meters or more, the town of St. Moritz has a population of 5,000 and is one of the world's richest places.
St. Moritz is the region's flagship resort and it is here that the notion of winter sports holidays was invented last century – by the British, who certainly could not have chosen a finer location anywhere in the world.
Sprawled across a sunny mountainside with spectacular views of the Engadine valley, St. Moritz is actually not very pretty to look at, but it is the most fantastic place to stay in and look out from.
St. Moritz has twice hosted the Winter Olympics (1928 and 1948), and skiing conditions are great from Christmas until late April. It also hosted numerous bobsledding and ski world cups.
Tourists can experience the thrills of one of these Olympic sports, bobsledding. Bob taxis, with two riders, take visitors down the Olympic run only three seconds slower than the champions.
The town of St. Moritz is very diverse, both regarding its population as well as the activities that can be pursued here. Regarding the population, the majority is German speaking, but there is also a significant Italian population due to its proximity to the Italian border. Regarding the activities there are various ways to spend one's time; a visitor can indulge in the pleasures of nature, culture, sports or one can simply relax admiring the beautiful scenery around.
It is also a town with a tradition of innovation that in 1878 brought St. Moritz Switzerland's first electric light and in 1892 the first electric tramcar.
But 130 years ago St. Moritz was a summer holiday spot, particularly for escapees from Britain's uncertain weather. On a bet from their hotelkeeper (who offered free accommodation if they didn't like it,) a group of Britons stayed over into winter.
They did like it. After all, St. Moritz gets 320 days of sunshine a year and the cold is "dry.
Still, it was a bit of a bore. So they started skating on the lake below the town. Then they introduced a daredevil one-man sled run called the Cresta.
Now St. Moritz has horseracing on ice, polo on ice, greyhound racing on ice, cricket on ice, besides skiing, year-round skating, ice hockey and a cross-country marathon for 12,000 skiers.
Summer offers nearly as much. St. Moritz is situated in the long Engadin Valley with many lakes and the rushing Inn River, whose waters end up in the Danube.
There is sailing on Lake St. Moritz, windsurfing on Lake Maloja, which has a famous consistent afternoon wind and fishing all around.
June to October, the Swiss resort is full of middle-class vacationers. The four five-star hotels, stay open during these months as well.
While St. Moritz is of course an up-market resort – almost two-thirds of its hotels are in the four-or five-star category – it is by no means as exclusive as it is sometimes made out to be. People of reasonably modest incomes can have just as much fun in St. Moritz as the billionaires, even if they cannot afford caviar and champagne.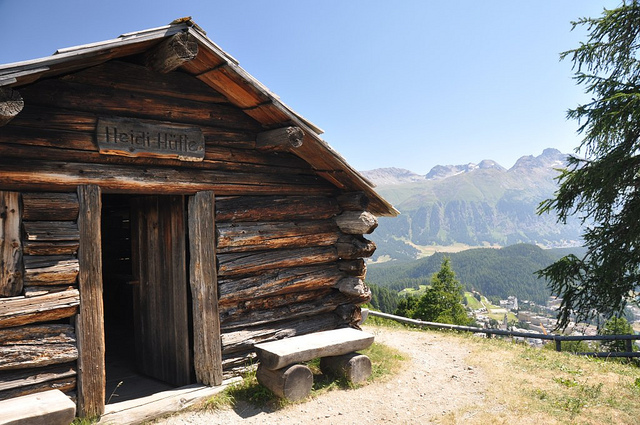 Heidi Hut
The story of Heidi told by Swiss author Johanna Spyri is well known across the world. The original motion picture from 1952, Heidi was partly filmed in the Engadin, and today you can find her hut above St Moritz Dorf, in the Salastrains. The hut can be visited freely.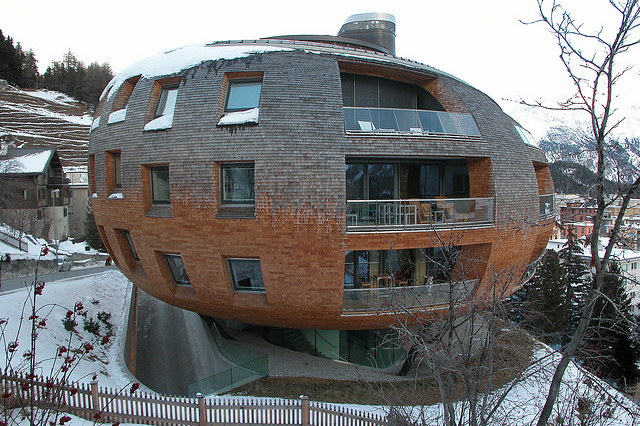 Chesa Futura
The Chesa Futura is an extravagant apartment building. It was built by the famous British architect Lord Norman Foster and combines futuristic designs and traditional building materials. The kidney shaped building hosts 10 luxury apartments and can be seen in St. Moritz village, valley behind Chantarella web.
You can never get bored of St. Moritz as there are plenty to do for all types of personalities and budgets. Besides the famous winter sports for which the town is renowned for, on this page you find some alternatives.
St. Moritz is truly a winter sports resort, rather than simply a ski resort, but this observation can often disguise the quality of the skiing, which is astonishingly good.
This is actually one of the highest alpine resorts, with its uppermost runs beginning at an impressive 3303 m (10,836 ft).
The "local" ski area is Corviglia, accessed from a funicular which runs from the centre of the town and whose pistes lead back to much the same point.